Top Things To Do in Prague
"Prague never seems to let go of you" – these were the words of noted Czech Novelist Franz Kafka describing the city. And it rings true when you venture out to a Bohemian vacation in this captivating city. A fairytale setting comes to life in Prague. The capital city of the Czech Republic feels like a city frozen in time. Prague or Praha as it is fondly called has history etched in its ambiance. The city divided by River Vltava is adorned with ancient buildings, medieval structures, cathedrals, buildings, and much more. The rustic splendors, heritage wonders, and natural beauty are beyond comparison with any other European city. The city is a delightful change from the modern world. Get ready to fall in love with Prague as you read through these best places to visit and top things to do in the Prague Czech Republic: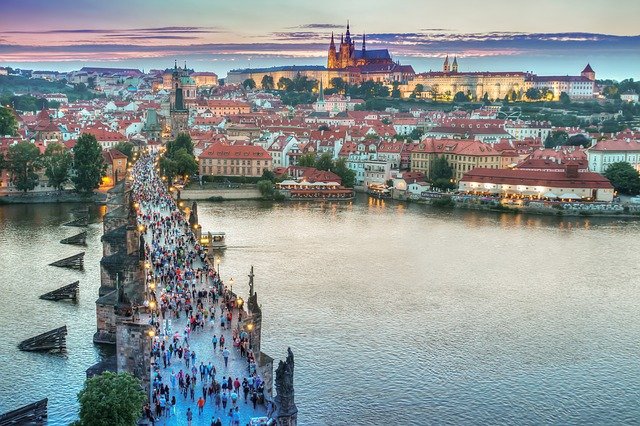 Wander through the Old Town of Prague
Teeming with historical landmarks and architectural marvels, the Old Town of Prague exudes an extraordinary medieval charm. One of the most charming historical regions in the city, this township is one of the oldest thriving places of the country steeped in heritage charms. The cobbled streets, brick red rooftop structures, and aging architecture present a fairytale aura to the town. The Old Town is best experienced on a walking tour and is a definite feature on Prague tours. Saunter through Old Town Square and snap a photo with the beautiful Prague Astronomical Clock. Take in the beauty of the city from the top levels of the City Hall. From here, you can witness the glorious beauty of Prague's historical settings from a bird's eye view. Other highlights of the city to witness on a walking tour are Týn Cathedral, St. Nicholas Church, Kinsky Palace, and Jan Hus Monument. The charms of Old Town will infatuate you and it will make yearn to spend more time, perhaps never leave it and return to your usual life. Without any doubt, it is one of the top 10 things to do in Prague all around the year.

Explore Prague Castle
One of the oldest heritage monuments of the city that dates back to the 9th Century, Prague Castle is a colossal architectural marvel that has stood the test of time. Throughout its Bohemian history, it was the residence of rulers of Czech. Today it is the seat of the President of the Czech Republic. This charming castle is actually a complex of different architectural elements fused together to form a gorgeous Bohemian attraction. The structure has a mélange of Baroque and Romanesque architecture and consists of some of the most eye-catching gardens, churches, cathedrals, tower halls, and palaces. It is one of the most visited attractions in Prague and is considered as the largest ancient castle complex in the world by the Guinness Book of World Records.

Enjoy an evening walk on the Baroque bridges of Prague
Prague is breathtakingly pleasant and a treasure trove of architectural styles. The city's skyline looks magnificently alluring from a distance. Prague is divided by the River Vltava splitting it into old and new Prague which is connected by a series of bridges. In total, Prague city has 17 stunning bridges that display a myriad of architectural beauty dotted with series of statues and motifs.  The most famous Prague Bridge is the Charles Bridge – an arch stone bridge built in the 15th century. Other remarkable bridges to visit are Čechův Bridge, Palacký Bridge, Manes Bridge, and Legion Bridge. One of the best activities to do in Prague is to take long walks on these bridges which are perfect as stunning viewpoints to witness the city's stellar beauty.
Get a dose of Prague's retail therapy
Scenic and serene change from the usual city shopping experience, the city invites you to enjoy a pleasant shopping experience without the hustle and bustle of tourist crowds. Prague offers an amazing array of specialized shops, outdoor markets, and shopping passages offering a range of merchandise to splurge on. From designer shops, specialty food stores to antique shops and farmer's markets, you can venture out to a shopping experience that suits your style. Prague also offers Bohemian and Indie shopping experience and the best places to check out are Mint Design Market, Bohemian Retro, and CernaRuze. Check out Czech Republic's world-renowned glass products at RonyPlesl Studio and for fashion lovers, the Fashion Arena is another great spot to go shopping which offers around 200 international brands.

Enjoy a funicular ride to Petrin Hill
Want a better viewpoint from an elevated level to experience the panorama of Prague? Head to Petrin Hill located on the banks of River Vltava. Make the journey to the top a memorable experience with a funicular ride from Újezdstreet in Lesser Town to the summit of Petrin Hill. The journey on the tram offers a picturesque vista of the surrounding city and stops midway for those who would like to grab a bite at the famous Nebozizek Restaurant. At the top, you find yourself surrounded by verdant woodlands, aromatic rose gardens, and floral blossoms of cherry orchards. The Petrin Hill Lookout Tower that looks like a mini version of the Eiffel Tower offers a spellbinding view of Prague. Petrin Hill also has a mirror maze, an ancient monastery tuned into a charming book library, and Czech Ethnographic Museum. Petrin Hill is your best bet to get the highest aerial perspective of Prague city. If you are searching for some of the best things to do in Prague in December then this option must in your list.


Take a cruise on the Vltava River
River Vltava that meanders through Prague is one of the significant highlights of the city.  For any Prague visitor, a visit to the river is a must-do activity. While the bridges offer a splendid viewpoint to witness the scenic skyline of Prague, a cruise on the river adds many more pleasant experiences. A one-hour cruise on the River Vltava is a pleasing way to get a stunning glimpse of Prague's breathtaking waterfronts. Be it in the daytime or after twilight, Prague city from River Vltava looks mesmerizing any time of the day. You get a variety of options for a river cruise – right from simple sightseeing cruises, to luxury boats and dining cruises. The sightseeing cruise takes you on a journey through Prague's historical heritage sites. The routes are designed to ensure visitors explore the popular landmarks and sights of Prague in serene, hushed settings. The restaurant cruises are a delightful experience where you can dine a scrumptious gourmet meal on a glass roof boat, enjoy nonchalant conversations as you meander through the evening ambiance of River Vltava. The melodious music and performances add a touch of merriment to the cruise experience. For couples, it is the best way to enjoy sublime moments together in enchanting settings. If you are looking for some of the unique things to do in Prague at night then you must take a cruise ride.
What's next?
Whether you are looking for fun things to do in Prague with kids or top places to visit in Prague with family, the above travel guide covers everything. Western Europe is well documented and marketed for globetrotters. A European holiday would always have the usual destinations of snow-covered Swiss alps, the Renaissance era of Italy, islands of Greece, and the French flair of Paris. Eastern Europe often is neglected by notions of them being war-torn regions. However, Czech Republic paints a different picture and is one of the hidden jewels of Europe. For the discerning wanderlusts or those looking for off-beaten destinations, Prague offers a myriad of places that are ancient, charming, and serenely beautiful to visit.  For a European holiday, a visit to Prague is an amazing idea and if you do get the chance to visit Prague in your lifetime, never miss the opportunity. Once you know what to do in Prague, you can plan your journey with utmost enthusiasm.