Best Places To Visit in Sydney
Popularly known as the Harbour City in the World, the city of Sydney has a glorious past and magnificent history engraved on it. The city now the capital of New South Wales state of Australia has been regarded as one of the most beautiful and liveable cities in the World. Flocking in a rich heritage, culture, art, diverse cuisine, natural wonders, scenic beaches, and with recent urbanization this port city stands apart attracting tourists all over the year to explore top places to visit in Sydney.
The visually stunning city is built alongside the harbor, with the Pacific Ocean in the West, Blue mountains engulfing the eastern side, Lake Macquarie in the North, and Botany Bay in the South. Though urbanization has given a great shape and transformation to the city the scattered presence of several ecologically intact bushlands keeps the city alive and close to nature. Walk, run, cycle or backpack for a picnic to the parks and green lands that is sprawled all over the city. Sydney offers a whole bunch of exciting aquatic activities on its picturesque beaches, lakes, rivers. Drive-away from the city to experience Vineyards and the visit definitely worth to learn why the Australian Wine ranks among the top in the World. Sydney Siders enjoy a temperate climate with mild winters and warm summers making most of their time outdoors. Above all the city has incredible food to offer as the cuisine here is a blend of British, European, Asian, and Middle Eastern.
We take you through a more detailed list of the places to go in Sydney and why this dazzling city should top in your bucket list of travel destinations.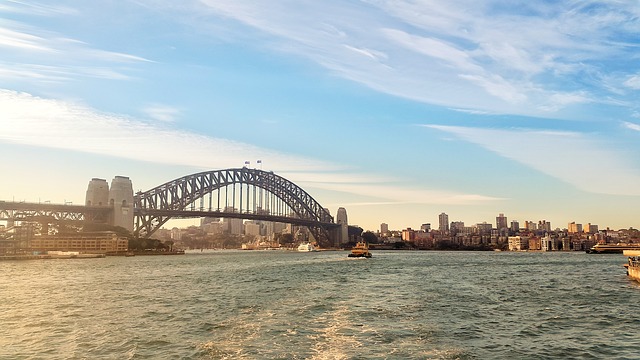 Wild life Sanctuaries and Zoo:
Australians are proud of their indigenous wildlife treasures and the country continues to strive to become one of the best wildlife conservatories in the World. Sydney has some of the finest wildlife sanctuaries wherein people can get up close to the animals. Home to 2600 animals on 21 hectares of landscape Tauranga Zoo is the largest in Sydney. With Sydney Harbour as the backdrop, the zoo promises some spectacular views for the visitors. Seal water shows, daily bird shows, camping at night in the zoo and Aboriginal discovery tours are attractions of the zoo. Popular among the Sydney Siders for day tours Featherdale Wildlife Park, home to 1700 animals is just a drive-away from the city center. World's largest living reptile Ngukurr, saltwater crocodile can be met here. If you are searching for some of the fun places to visit in Sydney with kids then come to this zoo.
On the Kangaroo's walk-through enclosure visitors are allowed to get close to Koalas, Wallaby, and even hand-feed Kangaroos. Kids can be seen enjoying the visit. The 'Aussie Big Five' can be encountered at this Wildlife Sydney Zoo and Sea Life Sydney Aquarium located in the Darling Harbour. The island country is endemic to some of its animals like Koalas, Wombats, Saltwater crocodiles, Dugong and Platypus. Wildlife Sydney Zoo has been awarded for the conservation of the big five and other creatures. Symbio Wildlife Park, Calmsley Hill City Farm, Australia Walkabout Wildlife Park, Manly SeaLife sanctuary, Kaola Park sanctuary and Wirrimbirra Sanctuary are other major wildlife attractions.
Comprising more than 100 beaches Sydney buzzes with the perfect scene of beach culture. Categorized as ocean and harbor beaches it includes some of the World's renowned beaches. Bondi, Coogee and Manly are much popular ocean beaches whereas CampCove, Chinamans and Balmoral are famous Harbour beaches, Some of the best things to do in Sydney at beaches include nature walk, surfing, snorkeling, underwater scooter tour, jet boat rides, standup paddle, whale watching in a luxury cruise, kayak tours, guided shore dive, jetpack flight experience, swimming and much more. Tucked between Australia's oldest national park, the Royal National Park and Sydney Harbour are some secluded beaches with great views and some have its own waterfall. A night stay, camping and enjoying indigenous cuisine including fish 'n' chips will remain the most relaxing day spent on an Australian beach.
Designated as the UNESCO World Heritage site, The Sydney Opera House is the famous, most distinctive, and iconic landmark of the 20th century. Australia's aspiration to emerge as one of the World's best cultural capital and as a recognition to their indigenous Symphony orchestra, opera and chamber music groups resulted in the construction of this spectacular building. The design is so unique with a gleaming white sail-shaped shell structure made of over 1 million roof tiles from Sweden. The House sits on Bennelong point named after Bennelong one of the Aborigines who served as a liaison between early Australians and The British.
The Opera house is a multipurpose arts venue comprising one of the largest Concert hall of 2,679 seat capacity and The Opera Theatre of over 1500 seats. Symphony concerts, choir performances and popular music shows are hosted in the concert hall whereas opera and dance performances like ballet take place in the theatre. There are three other theatres for smaller musical performances, stage plays, film screenings and album releases. Outdoor performances happen in the Forecourt on the southeastern end of the complex. There is a professional recording studio and restaurants to refuel ourselves.
The gourmet of Australia :
Sydney is the food capital of Australia with many authentic restaurants and food stalls spawned across the city. Australia's culinary experience is a unique blend of culinary combinations from its own inhabitants and adaptations from various cultures including British, European, Asian, and Middle Eastern. Australian gold rushes and post-war immigration also brought Chinese, Mediterranean influence to the food. Bush Tucker is a famous hunter-gatherer diet of some 65000 years ago by native Australians. The modern-day restaurants are trying out their own variations to the Bush Tucker or Bush Food while keeping their distinct food alive. Chicken Parmigiana, Lamingtons, Pavlova, Fish 'N' Chips, Meat Pie, Barramundi, Vegemite toast, Pumpkin Soup, Grilled Kangaroo, Damper, Pikelets, Grilled prawns, lamb leg roast, biscuits and many more are some of the region's favourite.
The quench for breathtaking views and adrenaline rush gets satiated at this astonishing tallest structure of Sydney with an overall height of 309m ie 1014 ft above sea level. 'The Sydney Tower Eye' popularly known as Sydney Tower is the second tallest Observation Tower in Southern Hemisphere. Located at the Westfield Shopping center of Central Business District the tower apart from giving a panoramic view of the city promises some lifetime memorable experiences. No wonder it is listed amongst one of the top places to visit in Sydney Australia all around the year.
Fondly called the 'CoatHanger' because of its arch-like structure Sydneysiders enjoy every sunrise and sunset at this scenic location. New Year's Eve is a spectacular celebration of fireworks at this viewpoint in Australia. BridgeClimb Sydney is an attraction for tourists and locals alike to climb up on the bridge. To climb this one of the World's best engineering wonders is an experience like never before. The views will be stunning and it's worth climbing these tourist attractions of Sydney Australia.
Drive away from Sydney to the Blue Mountains a scenic World Heritage site that includes natural blue mountain area, waterfalls, valleys, and sandstone tablelands. Vast eucalyptus trees occupy the forest area of the region. The tiny droplets of oil from it gets mixed with water vapor and sunlight to give a natural blue haze. The region is also a guide to learn about ancient Aboriginal culture. Jenolan Caves in the region is one of the oldest and finest limestone caves that date back to 340 million years. There are 11 show caves, an underground river and amazing rock formations.
Though Sydney enjoys the best weather conditions all around the year late October to early April are the best months for sightseeing and the city is well connected via airlines with other parts of the world.
What's next?
Whether you are looking for places to visit in Sydney at night or places to visit in Sydney by car or places to visit in Sydney for free or places to see in Sydney, this Sydney travel guide covers everything. Now you know what to do in Sydney, go ahead and plan your itinerary. If you are looking for places to visit near Sydney then check our Australia travel guide.