Travel Guide to the Maldives
The Maldives is a paradise on Earth, which one should visit at least once in their lifetime. It is also very popular and a high priority when honeymooners plan their tours. You can explore islands here while Island hopping, try out a wide variety of delicious cuisines, try various water sports, enjoy a world-class experience of diving here, or can also discover the local markets here and shop for souvenirs for your loved ones. The Maldives is one of the best holiday destinations for an ideal vacation. Travel internationally without worrying about the visa facilities too. In this crisp Maldives travel guide, get to know everything you need to know before planning a tour to Maldives.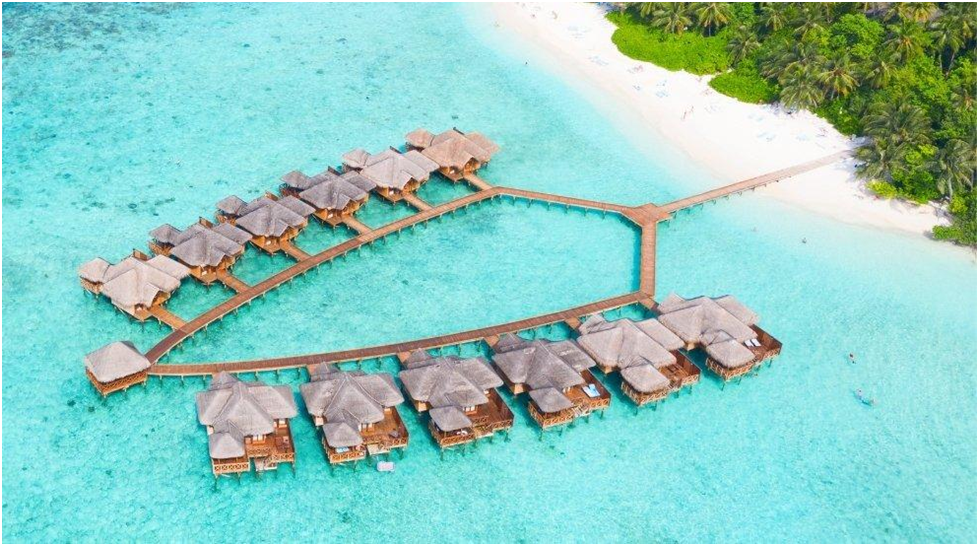 Best time
December to April, the summer season, is the best season to visit the Maldives.
Not facing any rainfall during this season makes it quite favourable and popular among travellers for their vacations or honeymoon tours. December sees a huge sea of people coming to celebrate festivals. May to November is seen as the monsoon season here in the Maldives. If you plan your trip around this time, you'll face plenty of rainfall. If you want hotels and resorts at a lower price, you can consider travelling from May to November. Some tourists consider this a nice time to explore the Maldives.
What to eat
When enjoying a Maldives vacation, you cannot afford to miss out on Maldivian Cuisine. You'll get to enjoy different Asian Cuisines in the Maldives. You can try different famous cuisines in the Maldives. Don't forget to try out the famous authentic Maldivian Cuisine. Try out the Maldivian Lobster, Champagne Barbeque, A wide variety of meats and more. You can also explore the local markets and try the local food all by yourself. You can also get a variety of cuisines like Fusion of French, Italian Cuisine, Thai Delicacies, and European Cuisine. The Maldivian lobster, champagne barbecue, sunset grill, and a wide variety of meats are some special and most famous dishes you can look forward to.
Things to do
The Maldives offers you a long list to do here and enjoy yourselves to the fullest. It is considered one of the best places to relax and rejuvenate yourselves. Visit here for your solo vacation, family tour, honeymoon celebration, or on an outing with your friends. Think of all the possible adventures you can do in the Maldives. You will find an unending list of thrilling activities. Some of the major activities this place is popular among the travellers around the whole globe are world-class diving sites and preparations, visiting the amazing bioluminescent beach, which will leave you speechless with its mesmerizing beauty, relaxing in peaceful and rejuvenating spa sessions of Maldives and enjoying romantic candlelight dinners are the two most popular activities among the honeymooners and couples who come here for a vacation.
Some of the top activities you can indulge in the Maldives are:
Skydiving: To catch a bird's eye view of this beautiful city, experience an out-of-world experience and try skydiving here. Fly in the air with all the safety and proper gears. Just enjoy your flight and make beautiful memories.
Dolphin Cruise Excursion: If you are on a holiday in Maldives with your family, especially your kids, don't miss out on the Dolphin Cruise Excursion here. Experience the innocent joy and give your family a great time here.
Sunset Cruise Excursion: Leave everything and get ready in the afternoon to witness a peaceful sunset anywhere in the Maldives. You can either board a cruise or visit any beach here to experience this. If you're a young couple on a honeymoon trip in Maldives, you should definitely book your tickets to a sunset cruise as it is one of the romantic things any couple can do in their honeymoon.
Scuba Diving: Maaya Thila is the most popular and one of the best locations for all the adventure lovers here to try scuba diving at. It offers you a beautiful diving site. Try this fun activity and witness the mesmerizing underwater life filled with beautiful corals and colourful creatures.
Must-visit Places in the Maldives
Maldives' beautiful beaches, unending serenity, peace, luxurious and affordable accommodations, superb tourist locations, and a wide variety of islands make it a perfect and beloved travel destination around the globe for tourists. Visit as many places as you can during your vacation because you won't be able to finish the list in a go, no matter how much you try. The major attractions here in the Maldives are Artificial Island, Maafushi Island, Hulhumale Central Park, Sinamale Bridge, Alimatha Island, Grand Friday Mosque, Sand Bank, and Hukuru Miskiiy Mosque. These places do not complete the whole list. There are more locations you can explore while vacationing in the Maldives. They are:
Male City: There is so much to explore in the capital city of Maldives. You can visit the villages and local markets to get through the culture and customs of this Island. This city has a lot to offer, from the Grand Friday Mosque to the Sinamale Bridge. At least spend a day or two discovering this city.
Bioluminescent Beach: The Bioluminescent Beach is a natural wonder of this beautiful paradise on Earth. The photos of the glowing beach you must have seen on the internet are of this beach on Vaadhoo Island. Walk through this beautiful sea of stars with your loved ones and create magical memories.
Hulhumale Beach: Hulhumale Beach is a quiet and peaceful location to spend quality time with your partner. You can enjoy a wide variety of watersports with your kids, family, or partner. People have also recommended this beach for viewing mesmerizing sunrises in the Maldives. Sit back and enjoy looking at the swings and Maldivian hammocks.
Banana Reef: Banana Reef is a spot you should not miss on your Maldives trip if you are a seeker of a good diving spot anywhere you go. You can go scuba diving, snorkeling or swimming on this reef. This is a protected space where you can enjoy diving and catching sight of the magnificent marine life of Maldives.
Get the most out of your Maldives holiday by booking a Maldives package with India Thrills and get upto 33% off.
How to reach
Going to the Maldives is just conceivable via air. This is the main accessible mode that can take you to the Maldives. The Maldives' biggest and principal air terminal is the Male International Airport. There are no other international airports in the Maldives. If you are flying globally, you can take worldwide flights either to the Male International Airport in the Male City or to the Gan Airport in Addu City. These air terminals interface with a large portion of the south-east Asian nations. Assuming that you are travelling domestically by domestic flights, you will take trips to the Hanimaadhoo Airport, Kaadedhdhoo Airport, and Kadhdhoo Airport. It will be ideal if you don't stress over the visa customs while planning a trip to the Maldives. Plan your tour with next to no concerns, as the Maldives government and authorities offer you a 30-day on arrival visa, which you can stretch out for up to 90 days for a few explicit reasons. Overall, travelling to the Maldives is no big thing to stress about. Your whole travel experience would be safe, nice and travel friendly too.