Best Places To Visit in Indiana
Indiana is a state in the U.S. The capital of Indiana is Indianapolis. It is also the largest city in Indiana. It has the famous Lake Michigan on the border and Indianapolis lies between Michigan and Ohio. Indiana has many exciting places to visit and things for tourists which makes it an ideal vacation destination.
The weather in Indiana is mostly sunny so if you are someone who loves sunny, warm weather, Indiana is just an ideal place for you to visit.
Here are some of the top things to do and best places to visit in Indiana.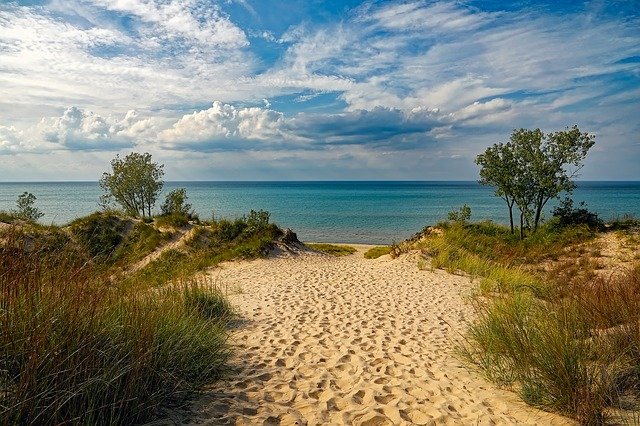 Indiana Dunes National Park
Indiana Dunes National Park touches the southern shore of Michigan Lake and has many things to offer. You can go looking for different species of birds if you are into ornithology or you can fly kites on the beach. The park is almost 15,000 acres wide. There are trails of dunes, wetlands, peaceful rivers and green forests.
In this National Park, you can find Indiana's three tallest dunes- Mount Tom, Mount Holden and Mount Jackson. There are also many trails here, which have many dune blowouts.
The most dynamic dune is Mount Baldy. It is eroding and is said to be moving almost 4 feet per year!
The trails can be crossed with snowshoes in the winter. You can even find tracks of animals after a recent snowfall.
The park has beaches like Kembil, Dunbar and Porter where many visitors come for swimming which is one of the top 10 things to do in Indiana anytime during the year.
There are around 1,000 plant species and 370 different bird species which makes this park one of the most biodiverse areas in the U.S.
Children's Museum of Indianapolis
This museum is located in Indianapolis and is the world's largest children's museum. This museum belongs to the American Alliance of Museums. It has 5 floors of exhibitions and receives around one million visitors per year.
It has a collection of more than 120,000 artifacts and exhibition items. The collections are divided into 3 domains, i.e. the American, Cultural World and Natural World collections.
One of the exhibits has a simulation of the Cretaceous dinosaur habitat. It also has the 'Fireworks of Glass Tower and Ceiling' sculpture.
The museum was founded by Mary Stewart Carey in 1925 with the help of Indianapolis civic leaders. In very little time, the museum has become one of the best tourist attractions in Indiana.
The main staircase is a spiral staircase that gives access to all five floors of the museum. The visitors can climb or descend these floors via strollers, wheelchairs and walkers too.
It contains Egyptian artifacts in a replica of the tomb of Seti I. Another part of it contains a simulated archaeological area that has artifacts of Ying Zheng, the first emperor of China.
This level also has a planetarium called as the Lilly Theatre which is one of the best places to visit in Indiana.
It has a welcome center with Brachiosaur sculptures. These sculptures are a replica of the real structure of the dinosaur and were created by Gary Staab.
This floor has a toy store and a food court. It also has a volunteer center, concierge desk and birthday party rooms thereby making it one of the top tourist attractions of Indiana.
Many of the exhibits on this floor are temporary. The "Take Me There" exhibit on the second floor changes its content once every two to three years with a different culture being represented each time.
This level has " The Power of Children", a permanent exhibition. It has the stories of Anne Frank, Ruby Bridges and Ryan White-the kids who have made an impact in the world.
There are historically accurate environments created to accurately represent how the children spent their lives.
This is one of the most popular areas. The Broad Ripple Park Carousel is loved by all. The animal figures in this carousel were created by Dentzel.
Cataract Falls is a rare waterfall and one of the best places to see in Indiana in Indiana. It is located in Owen County, which is in the northern part of the state. There are two sets of these waterfalls on Mill Creek. These are really beautiful to look at, with nature surrounding these at all four sides. If you go to Indiana make sure to see nature's beauty which this site has to offer.
Indianapolis Museum of Art
Indianapolis Museum of Art of IMA is located in Newfields. It is a 152 acres campus that has the Lilly House, Virginia B. Fairbanks Park, the Newfields Gardens, the Beer Garden, etc. It is located on North Michigan road.
There are exhibitions, classes, events, etc. which change periodically. It is the 8th largest encyclopedic art museum in the U.S. The permanent collection has more than 54,000 artworks, including African, Asian, American and European works.
Some noteworthy collections include Neo-Impressionist paintings, Japanese Paintings, Chinese ceramics and bronzes, sculptures, paintings by Paul Gauguin and also many works by J.M.W. Turner.
This museum was founded in 1883 by the Art Association of Indianapolis. The collection was formed by a huge donation by philanthropist Kurt Pantzer in 1979 and it has over fifty watercolor paintings, oil paintings, and etchings.
The European Collection- It has worked between 1800 to 1945, and includes famous works such as Aristotle by Jusepe de Ribera and The Flageolet Player on the Cliff by Paul Gauguin. It also has Rembrandt's self-portrait.
The Neo-Impressionist Collection- It has the Channel of Gravelines, Petit Fort Philippe by George Seurat. It was one of the first works to be donated here.
The American Collection- It includes American Impressionism and Modernism and has works by George O'Keeffe and George Inness.
The Asian Collection- The museum has an extensive Asian art collection. The Japanese Edo period paintings, scrolls and screens are included in this. It has 'A Thousand Peaks and Myriads' by Wu Bin, and Edo period panel by Kano Sanraku, etc.
The University of Notre Dame, also known as just Notre Dame, is a Catholic research university in Indiana. It was founded by Edward Sorin in 1842. The main campus is around 1,261 acres in a suburban space. It has many landmarks like the Golden Dome, the Word of Life mural, Notre Dame Stadium and The Basilica as well.
It is one of the top universities in the United States especially for its undergraduate education. It has many libraries, art and science museums, cultural venues. It has the Hesburgh Library and the Snite Museum of Art.
Notre Dame is known for its football team. The Notre Dame victory song is one of the most popular collegiate fight songs.
This university has around 8,000 undergrads living on campus with 31 residence halls.
The Indianapolis Zoo is located in White River State Park, Indianapolis, Indiana. It has almost 3,800 animals of more than 320 species. It has a zoo, aquarium and a botanical garden.
The Indianapolis Zoo has biomes for the animals. The Biomes are areas of the planet with similar climate, plants and animals. There are four biomes in this zoo including the Oceans, Forests, deserts and Plains.
Some animals in this zoo include-
California sea lion, gray seal, tang fish, clownfish, King penguin, Gentoo penguin, meerkat, Egyptian tortoise, Jamaican Iguana, Copperhead snake, Black Mamba, Cockatiel, Superb starling, Grant's zebra, Ostrich, African lion, Cheetah among many others.
St. Vincent Dolphin Pavilion- The dolphin pavilion is a highlight of the zoo which allows dolphin-human interaction.
Final Words:
Whether you are searching for the best things to do in Indiana or the top places to visit in Indiana, the above travel guide covers everything. Once you get to know what to do in Indiana, you can plan your tour with utmost perfection. If you are planning to discover some other tourist attractions near Indiana then don't forget to check our other travel guides.
About Author: Suchita Kasab