Top 10 Waterfalls in Odisha
Odisha is incredible with 450 Km of eastern coast and the rest with exciting lakes, mountains, flora, and fauna. Don't miss the amazing waterfalls in Odisha this winter.
The State of Odisha in India is incredible with a massive 450 Km of the coast and the rest with marvelous natural beauty. They include sweet water lakes, high mountains, virgin forests, and amazing and exciting waterfalls. Try not to miss the amazing experience of waterfalls in Odisha this winter.
This is why 15.3 million tourists from all across India and more than 115 thousand foreign visitors arrived in Odisha in 2019. If you are already in Odisha and looking for amazing and exciting things to experience, here is a list of 10 incredible waterfalls and all about reaching and enjoying the waterfalls conveniently: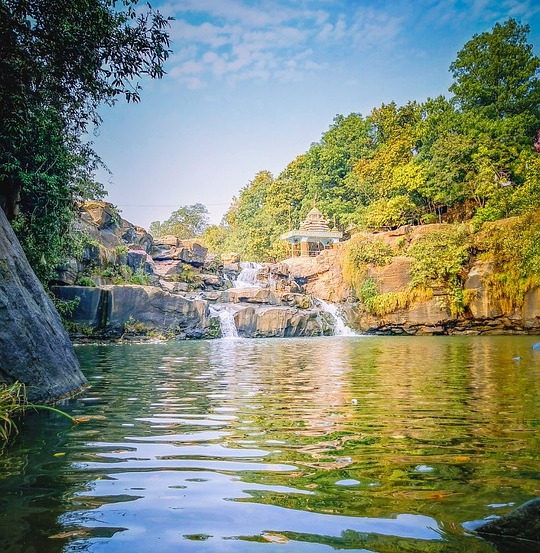 1. Duduma Waterfall in Malkangiri
Duduma waterfall popularly known as "Rani Duduma waterfall" is in the densely forest-covered, mountainous, and remote district of Malkangiri. The place is situated on the border of the State of Andhra Pradesh and Odisha.
A gigantic river named "Machkund" makes the waterfall that jumps from a massive height of 175 meters or 575 ft. Duduma waterfall is subsequently divided into two sub-waterfalls one falling to the side of Odisha whereas the other to the State of Andhra Pradesh.
You can stay in a historic town called "Jaypore" in the Koraput district of Odisha. Jaypore is 72.5 Km away from Duduma and takes 1 hour and 49 minutes of travel time.
The best time to visit Duduma is between October to February. You can take a taxi or bus or train early in the morning from Jeypore to Duduma and either take food along with you or buy them in Machkund. Remember, take precautions while roaming at the site as taking a selfie and careless climbing are extremely dangerous.
Duduma waterfall is one of the highest waterfalls in India and is counted as one of the best waterfalls in Odisha in terms of its mesmerizing scenery and beauty.
2. Khandadhar Waterfall in Sundergarh
Khandadhar waterfall in the district of Sundergarh comes next to Duduma in terms of its green landscapes and mountainous environment and natural beauty. Khandadhar Waterfall is one of the highest waterfalls in Odisha and the 12th highest in India with a height of 244 meters or 881 ft.
The name "Khandadhar" means "sword-shaped water flow" and the name is given because it looks like a sword. The waterfall is situated at "Nandapani" in "Bonaigarh" in the district of Sundargarh. Nandapani is just 15 Km away from the NH215 towards Lahunipara.
The surroundings of Khandadhar waterfall is a green forest with the primitive Pauri Bhuyan communities as inhabitants. This waterfall is considered one of the legendary waterfalls in Odisha because of a tribal legend behind the inception of the waterfall. Secondly, the surrounding forest is considered precious due to the rare medicinal plants in the forests.
One of the rarest scenes of the waterfall is the rainbow at the base of the waterfall which often creates a dancing illusion. Besides this, you can also go hiking if you are an adventure lover.
You can travel up to Kendujhargarh for a stay and take a taxi to Nandapani. You will have to travel a distance of 60 Km from Kendujhargarh to reach the destination. The best period to visit the place is between October and February.
3. Barehipani Waterfall in Mayurbhanj
Barehipani waterfall is another one of the highest waterfalls in Odisha as well as India situated in the Eastern Ghats. River Budhabalanga which is one of the big rivers of Odisha makes this waterfall by jumping down from a height of 399 meters or 1309 ft. from the Meghasani mountain.
Barehipani is next to the historic Similipal wild sanctuary, the safe abode for elephants and Royal Bengal tigers. Similipal is also famous for its biodiversity, especially rare medicinal plants.
Barehipani is a two-tier waterfall and suitable for a visit from October to beyond February because of its ever-green forest and cool atmosphere. Tourists flock around Similipal and Barehipani even in June.
The nearest town for a stay while visiting Barehipani is Baripada which is 69.6 Km away from Barehipani and takes 2 hours and 49 minutes to reach the destination. You can travel to Baripada by taxi or bus or train from Bhubaneswar the state capital and from there take a taxi to Barehipani.
Do not forget to take food and water as you may not get them in Barehipani.
4. Joranda Waterfall in Mayurbhanj
Joranda waterfall is also one of the highest waterfalls in Odisha and the 19th highest waterfalls in India with a height of 150 meters or 490 ft. Joranda waterfall is situated in the historic Similipal wild sanctuary and adjacent to Barehipani waterfall. The name of the place where Joranda waterfall is located is Dhanaulti in Mayurbhanj.
The water in the Joranda waterfall falls through a cliff and falls down in a single drop. The surroundings of Joranda waterfall is marvelous with green tall trees of the Simlipal national park.
Dhanaulti is 300 Km away from Bhubaneswar the State capital of Odisha. You can travel by taxi or bus or train to Baripada for a stay. The next morning take a taxi to Dhanaulti which is 61.2 Km away from Baripada and take 2 hours and 24 minutes to reach the destination.
The best time to visit Joranda is from October to February. However, because of the evergreen forest and cool atmosphere tourists visit Joranda as well as Barehipani and Similipal even in June.
5. Pradhanpat Waterfall in Deogarh
Surrounded by evergreen forests and hills, the Pradhanpat waterfall is a famous tourist attraction. Pradhanpat is situated in the district of Deogarh 100 Km away from the city of Sambalpur. The height of this waterfall is 192 meters or 630ft.
Pradhanpat is considered one of the important tourist places and waterfalls in Odisha, especially for western Odisha. The place is specially developed by the government with gardens and cottages for the visitors.
You can either stay in Sambalpur or book ahead for a stay for cottages in Pradhanpat. The best period to visit the place is between October and February. You can hire a taxi from Sambalpur if you stay in Sambalpur city. Remember, taking bath in the waterfall is prohibited but you can, however, avail the clear water of the waterfall in the cottages.
6. Hatipathar Waterfall in Rayagada
Hatipathar waterfall is situated adjacent to Rayagada township, the district headquarters of Rayagada in Odisha. The height of the waterfall is 334 meters and famous for its picnic spots and green and peaceful atmosphere.
Hatipathar in Odia language is "Elephant stone" named because of the elephant-shaped stones in the waterfall. The place looks marvelous especially in the monsoon and is counted as one of the most popular waterfalls in Odisha.
You can reach the place directly from Rayagada if you are staying at Rayagada. The best period to visit this place is from October to February.
7. Sanaghagara Waterfall in Keonjhar
As the name speaks "Sana" means "small" and "ghagara" means "fall" Sanaghagara is a small but exciting place especially for picnics. The place is 1950 feet above sea level and has ever-green forests with hills and a cool atmosphere.
The place opens at 7 in the morning and closes at 6 in the evening. You can directly travel by train or bus or taxi to Keonjhar for a stay and visit the place. Sanaghagara is considered one of the most popular waterfalls in Odisha.
8. Lulung Waterfall in Mayurbhanj
If you are a lover of adventure and hiking you will certainly fall in love with this unique place which is situated at the entry of Simlipal national park. Visitors popularly call this waterfall as "stone utensil".
Directly go to Baripada from Bhubaneswar for a stay and then make a trip to Lulung waterfall. You can also stay at Lulung waterfall itself as there are accommodation facilities. Visiting Lulung is suitable between October to February.
9. Devkund Waterfall in Mayurbhanj
Devkund is another popular and one of the best waterfalls in Odisha situated in Similipal wild sanctuary in Mayurbhanj. The place is also famous for the deity "Ambika". You can go to Baripada for a stay and visit Devkund conveniently.
Devkund is situated in the block of Udala. Every year people gather in great numbers for Makara and Raja Sankranti in Devkund.
10. Nrusinghanath Waterfall in Bargarh
Nrusinghanath waterfall is situated amidst the famous "Gandhamardan" hills and you can enjoy a holy dip either in Bhimadhar waterfall, or Guptadhar waterfall, or Chaldhar waterfall, or Gadadhar waterfall.
You can also enjoy the ancient archaeological remains still alive in some locations. You can arrange a stay in Nuapada and take a taxi to cover 20 Km to reach the destination.
What's next?
Everybody who visited Odisha instantly fell in love with the natural beauty and flora and fauna and went back to come back again. Eventually, they came back and experienced its rich cultural heritage, historical and monumental temples, and sites. Anybody who visited Odisha appreciated the hospitality and friendliness of Odia people and their tasty and flavorful foods while enjoying some of the best waterfalls in Odisha.
The above Odisha travel guide will definitely help you to add an element of spice to your journey. If you are looking for best places to visit near Odisha then don't forget to check our India travel guides.
About the Author
Sukant Montry writes Yoast SEO blogs/articles on health and fitness, travel, and other miscellaneous niches/topics, and is associated with Odisha State-Government of India-Department of Women and Child Development (WCD) sponsored "SHAKTI VARTA" HNWASH (Health, Nutrition, Water, Sanitation, and Hygiene) program.
Connect with the writer through: https://clearvoice.com/cv/SukantMontry