Best Water Parks in India
Water Parks has emerged out to be one of the favorite destinations of the people to travel with their dear ones. In a country like India where most of the region has a hot and humid climate, the water parks are a great escapade from the daily routine to enjoy the holiday. The large holiday patterns during summer in India have paved the way for the water parks to a large number of visitors. The thrilling experience here with a nice enjoyment done enchants a lot of people giving fantastic memories at the end. The marvelous water parks have brought a lot of regular visitors to the water parks during the vacation days.
In India, a lot of people are crazy for enjoying at the water parks. There are some of the fabulous best water parks in India which have attracted people from different parts of the country. These Water Parks are equipped with many of the essential facilities.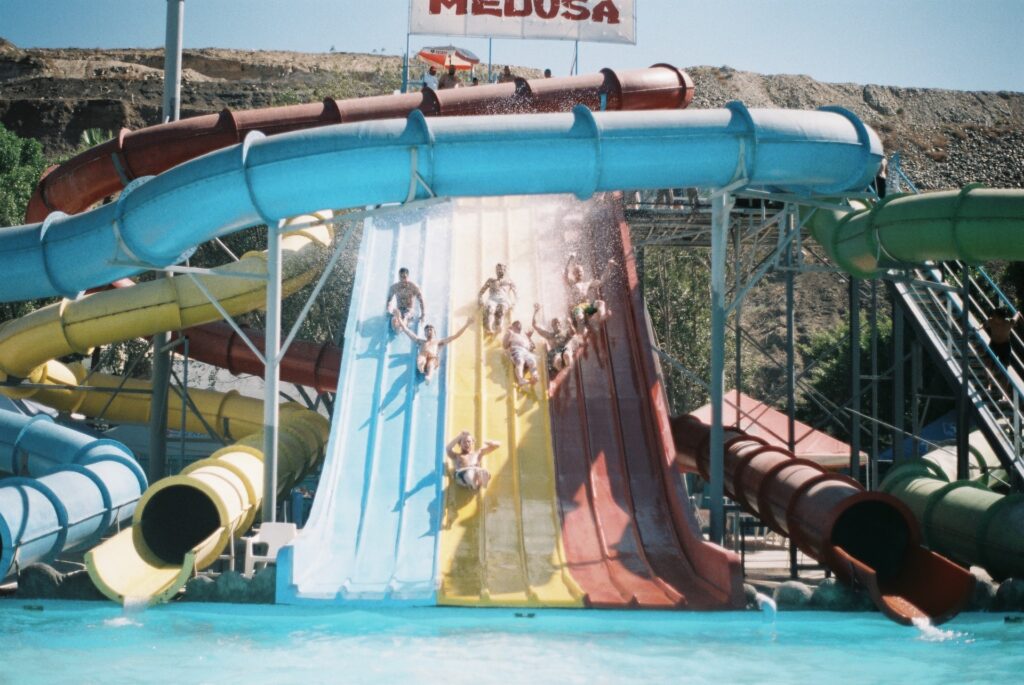 Let us look at some of the Best Water Parks in India:
1. AdlabsAquamagica in Mumbai
AdlabsAquamagica is a very popular Water Park around Mumbai and Pune region. It is located around Mumbai-Pune Highway which has a large crowd during the weekends and also a sizable crowd during the weekdays. It is a wonderful place for both the people of Mumbai and Pune who can chill out and enjoy. The food here is awesome with a variety of dishes and the rides can make you crazy in the water parks. Here you can do turning, twisting, splashing, and many more fun activities.
Fun rides to do –
Floats, Wacky waves, Pirate Bay, Swirl Whirl, Raftaastic, Loopy Woopy, etc.
2. Water Kingdom in Mumbai (Esselworld)
The Water Kingdom in Mumbai which is also popularly known as the Esselworld is one of the oldest Water Parks in India. This Water Park is the biggest Water Park in the whole of Asia continent. Esselworld is visited by a large number of people and this place is more crowded during the weekends. You can have a lot of fun at this Water Park by enjoying different rides along with amazing food.
Fun rides to do –
Brat zone, What-a-Coaster, Goofers Lagoon, Adventure Amazonia, The Lagoon, etc.
3. Oysters In Gurgaon
Oysters In Gurgaon is a wonderful Water Park which is located at Sector 29 around Leisure Valley. The wider area for entertainment and the lavishing gardens will simply give you a pleasant feel. The adventurous rides with a lot of fun can make your day full of fun and enjoyment. Many of the people from nearby areas visit this place during the weekends.
Fun rides to do –
Lazy River, Thunderstorm, Skyfall, Pirate Station, Rapid Racer, Wave Pool, etc.
4. Fun n Food Village In Delhi
Fun n Food Village is a popular Water Park situated in Delhi. Several people from Delhi and nearby areas throng at this place do enjoy. The thrilling fun rides and the different water slides are very entertaining. Compared to the other Water Parks, this water has relatively lower charges making it very affordable for many people.
Fun rides to do –
Water Mary, Snow Blasher, Magic Carpet, Eagle Ride, etc.
5. Ocean Park in Hyderabad
Ocean Park is one of the most popular water parks in Hyderabad India. It is spread across a wider land area making it a very nice reliving place for people coming here. It has very tasty food, entertaining rides, and entertaining areas which can make your day enjoyable. This place has a huge rush during the summer days as vacations are on and people can find a great relief here.
Fun rides to do –
Tornado, Zip Zap Zoom, Aqua Trail, Aqua Glide, Wave Pool, etc.
6. GRS Fantasy Park in Mysore
GRS Fantasy Park is a well-known park in Mysore which is full of fun and thrilling experience. Reaching this place is very easier as public transport is available here. There are many of amazing rides which will simply make you crazy and the delightful food available here are amazing. This Water Park also runs a shuttle bus service for the people to visit here.
Fun rides to do –
Telecombat, 5D Virtual Ride, Pendulum Slide, Amazonia, Lazy River, Red Indian Falls, etc.
7. Wonderla in Kochi
Wonderla in Kochi is a well-known Water Parks in southern India. The park is spread across a larger that can accommodate a larger number of people. People come here in large numbers during the holidays and weekends. The thrilling rides along with nice games make it a better place for the people to rejuvenate. The people can find this place more relaxing which is filled with a lot of joy.
Fun rides to do –
Wave pool, Rapid river, Rocking Tug, Dancing Cards, Twin Flip Monster, Vintage Tornado, Super Jumper, Convoy, Flying Ammu, Castle Jet, etc.
8. Wonderla in Bangalore
Wonderla is a very popular destination for people for having fun and enjoyment. The amazing rides can simply make you crazy with ample entertainment. You can experience here, wet rides, dry rides, high thrill rides, etc. The food here is very tasty with a large range of dishes. Many of the people from Bangalore come here to get a lot fun.
Fun rides to do –
Musical fountain & laser show, hang glider, Jungle Lagoon, Lazy River, Mini Venice, Magic Mushroom, Flash Tower, etc.
9. Dreamworld Water Park in Thrissur, Kerala
Dreamland Water Park is a popular water park, particularly in Kerala. Located in a very beautiful natural environment, this place makes a nice place to have a lot of fun, entertainment, and delight at the WaterPark. Kerala Tourism has given a lot of promotion to this park. This Water Park looks extremely delightful from a distance which gives a pleasant feeling.
Fun rides to do –
Lazy River, Space Bowl, Space Bowl, etc.
10. Aquatica in Kolkata
Aquatica is a very popular Water Park located in Kolkata. It provides a better destination for the people of Kolkata to enjoy wonderful rides, excitement, relaxation, fun, delight, luxurious stay, etc. This place has turned out to be a nice picnic spot for many of the people here.
Fun rides to do –
Black hole, Raft Slide, Niagara Falls, Wave Pool, Pendulum, etc.
What's next?
These are some of the Best Water Parks in India where you can spend your holiday. It will provide you a lot of entertainment, fun, and amazing rides giving you memorable moments. The affordable rates of these water parks make it simple for any of the individuals to come along with their dear ones. The thrilling enjoyable experience will make you delighted. If you are looking for the best theme parks in India then don't forget to check our other travel guides.
About Author: Abhinay 
For 5 years, I have been a traveler and a Content Writer. I have traveled across different regions in the world. I have written the content with my travel experience and ensure that I provide the best information about the different places.