Best Theme Parks To Visit in India
In our day-to-day busy life, we get vexed with our regular and routine works throughout the week. So we eagerly wait for the weekend to get relief from all the hustle-bustle lifestyle. In meantime, Theme Parks are the best choice to escape from the pressure and just enjoy ourselves the rest of the day with full packed entertainment and fun. So whenever you feel like think about some crazy and India's finest theme parks to enjoy your weekend trip with your friends or family. There is no dearth of the best theme parks in India with fantastic game rides, swimming pools, roller coasters, spas, multi-cuisine dining restaurants, and so on the list goes.
Let's have a look at what are the best amusement parks that are worthy enough to visit in India. Here you can catch some of the top theme parks in India that are worth visiting: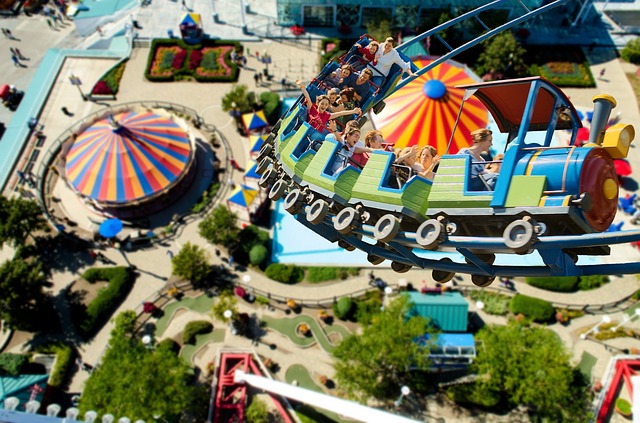 1. AdlabsImagica:
If you are crazy about roller coaster rides, AdlabsImagica is the right place you have to land. Imagicaholds India's biggest roller coaster and 4D stimulation rides. It was opened to the public in 2013 and it is the best recreation spot in Lonavala to enjoy the feast of enthusiastic rides, fun, and entertainment. This massive park was divided into three parts namely Snow Park, Theme Park, and Water Park. Aqua Magica Water Park and five-star Novotel ImagicaKhopoli are the iconic attractions of this theme park.
This wonderful theme park was built by Adlabs Entertainment Limited owned by Manmohan Shetty, who is a famous film producer. Imagica with 30 themed rides, 8 themed restaurants, luxurious accommodation space, shopping destinations, entertainment hubs, etc everything makes it an iconic theme park in India.
Location: Khopoli, near Mumbai-Pune Expressway.
2. Essel World andthe Water Kingdom:
India's familiar theme park built in 1989, Essel World and the Water Kingdom is the best-known for its entertainment rides and massive water park. It is India's first and largest theme park equipped in 64 acres of land with 70 different rides, Water Kingdom water park, ice skating, bowling alley, squadron dance floor, etc. During summers, Essel World is the best hideout place for kids and families to enjoy the day in the water parks of Essel world. This theme park is a famous shooting point for Bollywood movies and TV serials also so if you are lucky you may have a chance to meet with celebrities.
What the things in this park make it special are its wave pool at the Water Kingdom and Mist dark ride setup with frightening Monsters. The wave pool in this park is the first kind introduced in India. In Mumbai, Essel World and the Water Kingdom is a must-visit theme park for sure.
Location:Gorai, near to Northwest suburbs of Mumbai.
3. Wonderla Bangalore:
Wonderla Theme Park in Bangalore is an ideal and one of the best theme parks in India for kids and adults. The park offers various varieties of rides that count nearly 60. Among them, Wonderla is known for its high-thrill rides with accelerating speed touching the high sky. Especially for children, the park offers 13 rides which are very pleasant for kids to enjoy. Moreover, Rain Disco dance with laser light setup and showers add extra fun. Its resorts, numerous funny and leisure rides excite the tourists a lot.
The main interesting part of this park is its Roller Coaster, why because Wonderla'sroller coaster is the first kind of reverse looping roller coaster. It is the major attraction for thrillers to visit Wonderla.
Location:Very close to Bangalore on the Bangalore-Mysore Highway.
4. Kingdoms of Dreams:
Kingdoms of Dreams is a little bit different from the other best amusement parks in India listed here. It is live entertainment and displays Indian culture and arts. This theme park covers many intriguing and astonishing arts and crafts, Culture Gully is the showcase of all these attractions in KOD (Kingdoms of Dreams). Nautanki Mahal,a state-of-the-art auditorium for live productions, andShowshaa, a multi-faceted theater are the major attractions of this park. In a few words, KOD is a perfect display of all the different traditions, cultures, and lifestyles of Indian states.
Location:Near IFFCO Chowk Metro Station, Gurugram, Harayana.
5. WonderlaKochi:
Is there any theme park that finds the best for kids means, Wonderlain Kochi is one of the finest amusement parks in India. It facilitates nearly 50 rides categorized into four types namely Family, Kiddies, Water, and Hair Raising. For families, this theme park is a wonderful place settled alongside the Hill with lush greenery creates a serene environment. Especially, for picnics and trips, Kochi's Wonderla is the best choice.
Wonder Splash is the crowd puller for this theme park. It is an exciting boat ride journey into the caves and with a bang, it will be splashed into a pool. A very interesting ride to enjoy here. A 3D movie theater is also a worthy one to enjoy 3D movies.
Location:Pallikkara, near Kochi.
6. Ramoji Film City:
Ramoji Film City is the world's largest film studio complex, spread over 2,500 acres set up by Ramoji Rao. It is a massive creation space for movies for all film industries in India. Besides, its entertainment side theme parks, zones, adventure parks, kids parks, and so on many things of Ramoji Film City attract visitors from all over the country nearly 1.5million people visit the park every year.
If you want to know how a set for a film gets created means, Ramoji Film City is the best place to visit. You can visit the cinema sets hereafter the movie is completed, it is a wonderful thing like witnessing the real screen. Simply, it is the best-ever place to witness in India for an uncountable number of activities, fun rides, restaurants, whatever it may be the list goes on.
Location:Outskirts of Hyderabad.
7. Aquatica:
Aquatica, a budget-friendly and small theme park and resort spread over 17 acres located on the outskirts of Kolkata. It is known for its water park, which offers a wide range of water rides such as Jungle Safari, Raft Slide, Black Hole, Cyclone, and its Aqua Dance is also a special attraction of the park. For those who want to enjoy the complete day in water rides, Aquatica is the best choice as the name suggests "Aqua". Coming to resorts, it offers good luxurious accommodation options and you can opt for this theme park for weddings and meetings too. In a few words, a sweet and small theme park for families to enjoy the picnic.
Location:Kouchpukur, Near Rajarhat Township, Kolkata.
8. Black Thunder:
Coimbatore's well-known theme park, Black Thunder is known for its fantastic water rides and roller coaster rides. In summers, this theme parks fill with huge crowds enjoying the water rides escaping from the scorching sun. Black Thunder is quite famous for its water rides, Volcano, Dashing boats, Kiddies pool, wave pool, Dragon coaster, etc. A perfect place for all age groups of people. It is a nice place to relax with fun rides and to get thrilled with adventurous rides too.
Here you can enjoy different types of dishes and snacks at the food court. Many fun activities such as the Lazy River ride and kid activities such as Duck train, Caterpillar ride, Surf hill, etc are the highlights of the park.
Location:On Ooty Main road in Mettupalayam, near the foothills of Nilgiri.
9. Della Adventure Park:
As the name suggests, Della is a fantastic and adventurous theme park for adventure seekers to live in enjoying the adventure rides or activities. Here you can pick a wide range of activities nearly 50. ATV rides, paintball, buggy rides, swoop swing, rappelling, flying fox, shooting, archery, horse riding, rock climbing, bull ride, many activities make you confused about what to do in this park. It is like a feast for adventure thrillers to enjoy the fullest in experiencing various activities.
Location:Near Mumbai – Pune Expressway, Lonavala.
10. Worlds of Wonder Water Park:
In Delhi, Worlds of Wonder Water Park is wonderful and the best one with its thrilling and fun activities and it is a renowned park of its kind. This wonderful amusement park holds 23 different rides and activities which accelerates visitors to witness the crazy stuff here. The Roller coaster of this park is the one must for the thrillers to enjoy. A very interesting thing about this park is "La Fiesta" it is specially organized for kids andsenior citizens to enjoy the fun rides.
The other activities offered in this park are Go Karting, Paintball, Rapid Racer, Turbo Tunnel, Air Hockey, Car racing games, VR games, puzzles, rain dance showers, many things that gifts the best recreational space to the visitors.
Location:Adjacent to Great India Place Mall, Noida.
What's next?
These are the top10 worthy enough amusement and theme parks in India to visit all around the year. So whenever you feel to relax in joy and thrill, these wonderful theme parks welcome you always. For family picnic spots or summer relief camps, these theme parks the best to opt for. I you are looking some of the best water parks in India, then don't forget to check our other travel guides.
About Author:
Hari Kiran: When I get free, I like to enjoy my time in writing various travel blogs. Why travel blogs mean, it makes me enjoy the joy and essence of life in exploring different wonderful and interesting places on this earth. For everyone, traveling is a beautiful opportunity to find ourselves surrounded by the beauty of nature and many intriguing things.